Unsure which TP to get for that special someone? Don't worry, we have you covered with our e-gift cards. 🎁
Buying an e-gift card
When purchasing your e-gift card, you can choose to send it via email, instant message (on the date of your choice) or you can print it out to give in real life. The e-gift cards come with a code and instructions on how to redeem the card at checkout. There are no additional processing fees.
If you are purchasing multiple gift cards in a single purchase, please make sure to add them to your cart individually instead of all at once.
Using an e-gift card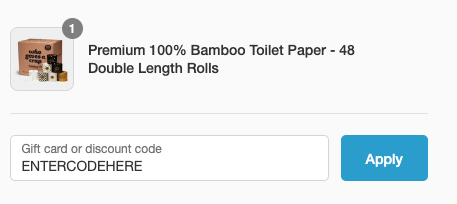 Woohoo! Someone obviously thinks you're pretty great! You can redeem your e-gift card at checkout by entering the code into the discount field and clicking 'apply' for one-off orders. The amount payable will adjust immediately.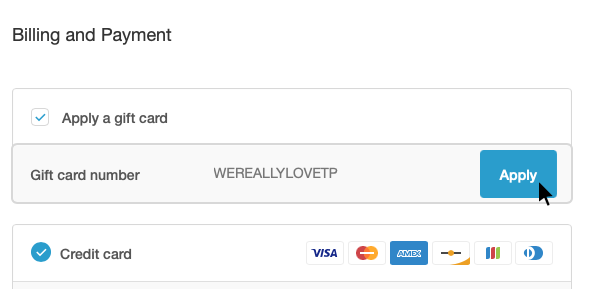 You can also use your gift card for subscription items (anything that asks how regularly you'd like deliveries) for your first order by ticking the "apply a gift card" box on the payment page of the checkout and entering your code in the gift card number field.
Remember that you must create an account and save a credit card to process future purchases on your subscription.
Don't worry if you're finding it hard to do some quick math - you can always check on your e-gift card's balance right here.
If you're getting an error message, contact us and we'll get it sorted for you.
Please note
For our friends in Euro € currency countries, unfortunately we're not able to offer e-gift cards in € or just yet.